Let's skip the intro and get straight to the point because you already know who I am … and what I can DO. (come to the Vortex)
I can take your company's PITCH DECK and weaponize it;
I can write a PRESO that consistently generates new revenue;
Build a CLOSING SEQUENCE to land the best clients in your market;
Create a FRAME that doubles the amount of every deal.
In other words, give me whatever you are using now and I'll make it better … a lot better.
When I'm DONE working on your pitch material … you won't see much left of your "original version" … but you'll love the new one.
How can I do this?
Here's 3 PROBLEMS I always tackle first:
Problem #1. YOUR PITCH IS IN THE WRONG ORDER

It doesn't matter WHAT you're selling or WHO you're selling it to — there's an exact sequence you must follow — from the first moment to the last.
FOR EXAMPLE, you cannot put the "Solution" before the "Problem" or the "Price" before the "Value". There is a non-negotiable pattern in business, yet almost everyone breaks the rules.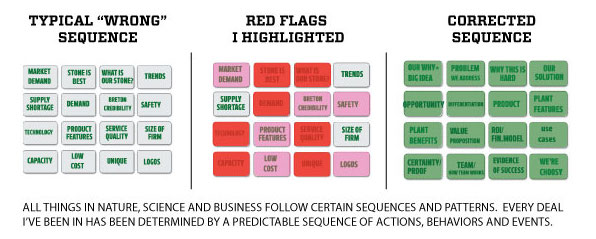 Problem #2. TOO MANY IDEAS IN YOUR PITCH

In every deal, you need a cornerstone — the one key idea that anchors the pitch to solid ground — because without it, your buyer simply won't CARE about you or your pitch. This is what I call the BIG IDEA. But for many people, their big idea is too small, too weak or not even an "idea."This concept is elusive and difficult to understand until I explain it in person (then people do the "forehead thwack" and they get-it and never-forget-it).
Problem #3. YOU ACT NEEDY (aka "I really need this deal")
Before the buyer can WANT your deal, you have to make them want to work with YOU first. This is the basic element of creating HIGH STATUS — and without it, everything you do comes across as needy, which puts the buyer in control of your deal (which ends up with you constantly chasing the buyer, and them constantly avoiding you).
So if you have (or even think that you might have) these three issues, then we should start working together as soon as possible.
When?
I'm officially opening enrollment requests for this year's Pitch Anything VORTEX, on Feb 8 -10th at my brand new training center in San Diego.
This isn't like any business event you've ever attended. There's no fluff or filler – just battle-tested tactics and an intense focus on YOU.

FYI This is not for everyone.
sorry, no sales trainers, funnel hackers, high-end dog hotels, or companies trying to mine copper on asteroids.
Real companies, real revenue, real scale.
(that's why you have to apply – we want to work with the best companies that can hyperscale now, not in 10 years.)
Here's the link to make your reservation.
– OREN