Tactics
1 super-solid way to start a meeting
Published on August 19, 2020
Listen now:

Watch now:
How was your July 4th … did anything bad happen?
Did anything COMPLETELY BLOW-UP like this?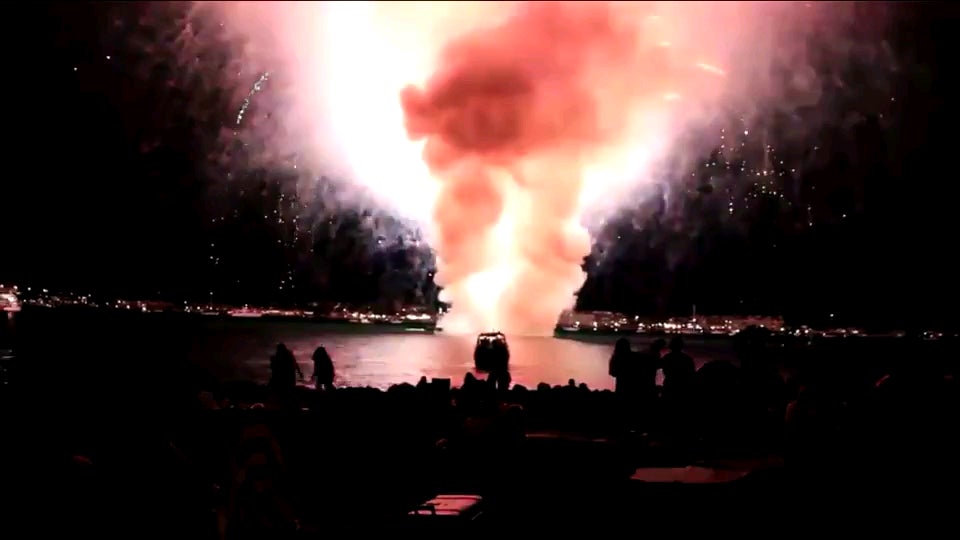 This photo was taken a few years ago on July 4th in San Diego …
The City had prepared five massive fireworks barges in the San Diego Bay and boldly advertised that "this July 4th will be bigger and more intense than in past years."
No kidding.
Obviously something went very wrong:
"Oh my God. Look at that. Is that supposed to happen?" said one person.
"I think a yacht blew up," @BENBALLER tweeted,
The fireworks show was scheduled for eighteen minutes but was over in 15 SECONDS.
I'll never forget the moment this massive fail happened, because it reminded me of some of my own biggest failures.
For example, I had one pitch to the Boeing Corporation, which was supposed last 18 minutes, but like the San Diego barge explosion, it was over in seconds …
I began to realize I was making the same mistakes as the "San Diego Fireworks Barge".
Something in my presentation was "wired" wrong and my deals were blowing up.
Then I figured out what was wrong:
I was using all my best ideas … at the start.
I described the best features of my deal … at the start.
I showed my best metrics … at the start.
Sure, I got people's "attention" … but my presentation was typically over as soon as it started.
Because, with all my best ideas used up in the first minute … there was nothing left to build interest and excitement.
And I failed to close some valuable deals.
So I re-Wired The Structure of My Pitch:
….. CREATE AN INTERESTING SETUP
……….BUILD INTRIGUE
………………FINISH WITH A BIG REVEAL.
In other-words, hold the best stuff to the end.
But almost no one does this.
Which is too bad, because the few guys out there that know how to create intrigue and end with a "reveal" are rolling over the competition.
Truth is, if you've ever wanted make a pitch that is irresistible to listen to ….
Or a landing page that converts …
Or write a blog post that gets thousands of shares …
You can start today, and I want to teach you how to do it.
Let's dig in:
Take a quick look at this typical software company pitch, here's the first few slides:

NOTICE ANY PROBLEMS HERE?
Actually, you wouldn't get totally "kicked out" of a meeting for giving this presentation …
This is all good stuff to brag about.
Our Customers are Audi, Nestle, Cisco, Microsoft …
We won the "Gartner Magic Quadrant Award "…
We offer a Code Free Interface …
… BUT YOU DON'T START THE PRESENTATION
WITH THIS GOOD STUFF …
… INSTEAD, YOU END WITH IT.
If you make this one small change in your next presentation, and just move most of "the very best stuff" to the end, you'll see your closing-rate go up.
And this is what I love about giving any kind of pitch or writing content.
… you don't need perfectly written copy.
…… you don't need meticulously researched information.
………. you don't need brilliant insight.
You Just Need The Right Structure 
1. SETUP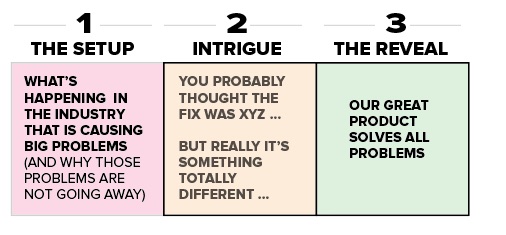 THE CORRECT SETUP GIVES YOU CONTROL
When you correctly setup a presentation or a meeting …
You control ATTENTION.
You control NEXT-STEPS.
You control THE DEAL.
And you're viewed as a HIGH-STATUS DEALMAKER.
I'll give you many tips and ideas on how to correctly perform a "Setup"…
.. and how roll smoothly into "Intrigue"

…. and then give your big "Reveal".
But I'm a little worried you're going to take all these tips, tricks and examples, then end up staring at a blank screen for hours trying to write your own version.
So in addition to the examples and tips, I want to give you the ACTUAL FORMULAS to create:

_________________________________________________________________________________________________________________________________
You can find this Training along side many others only from inside Pitch Mastery.
Join my worldwide community of Dealmakers here